Disclaimer: This review contains major spoilers. Read at your own risk.
Did you ever feel like asking one question and you think that question sums up all questions in your head? I know I'm not making any sense but after reading Feed I feel like my brain is in shambles and I'm left with one word or one question—Why?
Feed is my first zombie read. I've been hearing a lot of positive feedback about this from my GR friends and the book blogging community but I didn't pay much attention to it. I downloaded the book in my Kindle, shelved it and forgot it. I read this by accident. It was never part of my reading plan (as if I have any). I won't ever regret picking this up to ease my boredom because I'm not just entertained—it made me care. Feed is the most memorable book I've read for this year yet.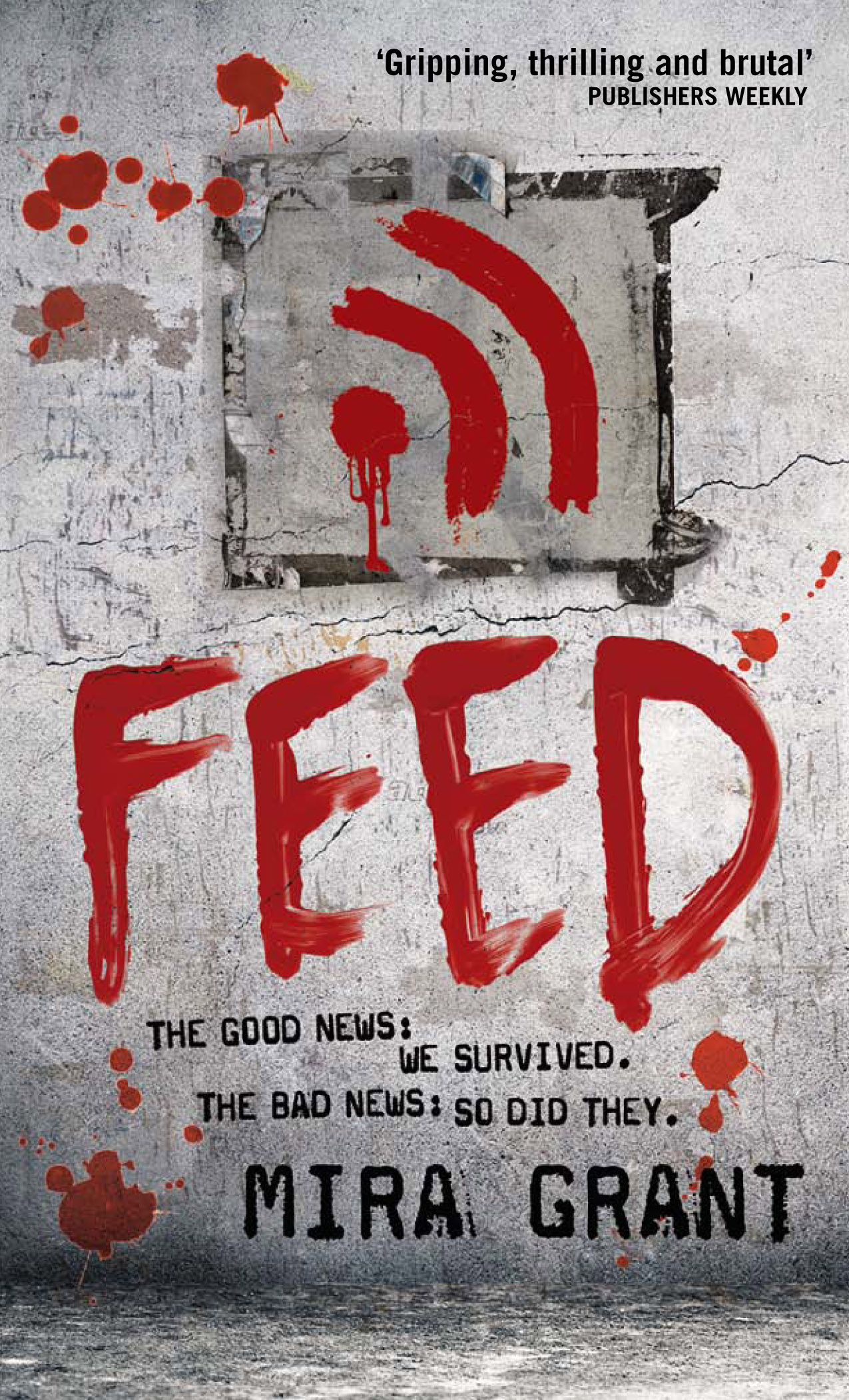 Kindle Edition, 608 pages

Series: Newsflesh Trilogy #1
Genre: Science Fiction, Horror

Published May 10th 2010 by Orbit
ASIN: B003GFIVSE
Buy: Amazon | Book Depository

In 2014, two experimental viruses—a genetically engineered flu strain designed by Dr. Alexander Kellis, intended to act as a cure for the common cold, and a cancer-killing strain of Marburg, known as "Marburg Amberlee"—escaped the lab and combined to form a single airborne pathogen that swept around the world in a matter of days. It cured cancer. It stopped a thousand cold and flu viruses in their tracks.

It raised the dead.

Millions died in the chaos that followed. The summer of 2014 was dubbed "The Rising," and only the lessons learned from a thousand zombie movies allowed mankind to survive. Even then, the world was changed forever. The mainstream media fell, Internet news acquired an undeniable new legitimacy, and the CDC rose to a new level of power.

Set twenty years after the Rising, the Newsflesh trilogy follows a team of bloggers, led by Georgia and Shaun Mason, as they search for the brutal truths behind the infection. Danger, deceit, and betrayal lurk around every corner, as does the hardest question of them all:

When will you rise?
I had a funny experience while reading this book. Since I can't put this down, I read this whenever I had the chance to. I was on my way to work one time, Kindle on hand, oblivious of everything surrounding me. I didn't notice a guy from PPILC approached me. Damn, I was so startled. It took me a few seconds to recover and decipher what this guy's offering. I politely declined and walked away as fast as I could. Swear, I almost hit him with my Kindle. I'm even sure my expression was really funny at that time. You might as well say, I thought a zombie came out of nowhere.
That's what Grant did to me. She sucked me right in to the story. This book kept me on the edge of my seat. Its adrenaline-pumping scenes and gripping suspense made me want to finish this book in one sitting which I find impossible since its 600+ pages! The politics is boring to most but it was just okay. I was more annoyed with the info dump because it made the book too long but I feel I'll miss something if I skipped it (which annoyed me more—600+ pages!). But despite my vexation with the number of pages (I have to memorize hundreds of Korean phrases and words and I was hoping this would be a quick read), I can't put the book down. Amidst the political intrigue, zombieness and mystery; the real heart of Feed is Shaun and Georgia's story—and that kept me going.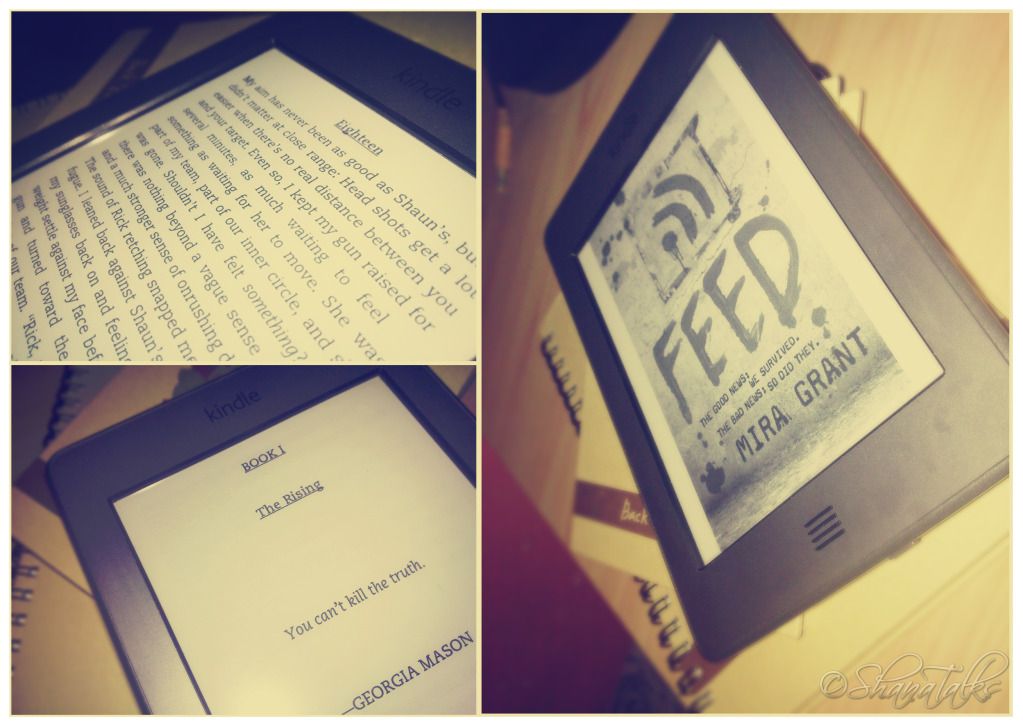 Shaun and Georgia is by far the most endearing duo I've read in a while. Georgia is helluva of a heroine. Her integrity as a journalist is outstanding. She's serious and careful while Shaun is crazy, impulsive and reckless. They're different; both of them have their own quirks but they complement each other. I fell in love with these two. And a part of me died when they have to face death the way they did. I don't want anyone to die but I know, at the back of mind, someone will. I felt Shaun's pain when he has no choice but to pull the trigger. His denial. His lost. His guilt. Everything.
After reading Feed, I decided to put off the remaining books of Newsflesh Trilogy but it doesn't mean I won't read reviews and check for spoilers. YES, I DID THAT. I opened Google and searched the words "ending/review of Deadline/Blackout". When that was not enough, I went ahead and read the last 3 chapters of each book. I'm not a fan of sad/tragic endings. I know the ending of Feed is necessary but still… I have to find out if I'm in for another heartbreak or I'll go crazy. As Georgia Mason said, the truth will set you free.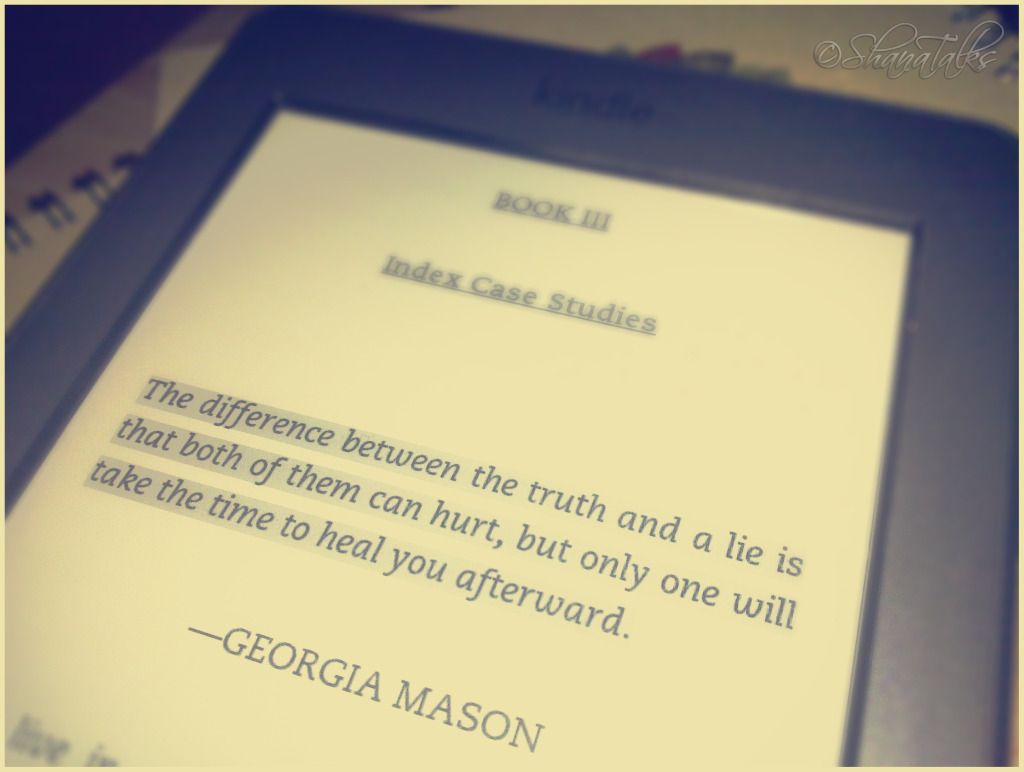 I made this review right after I finished reading the book but I didn't post it immediately so now I'm done reading Deadline but I'll set aside Blackout for a while. Reading 600+ pages per book is exhausting. I need a break from this zombie madness.
But who knows, I might change my mind.
Other Reviews:
One More Page
Sweet Reads
Reading is the Ultimate Aphrodisiac
Challenges: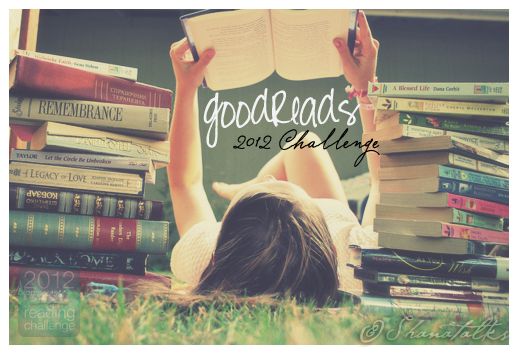 Book # 82 of 2012
Blurb: Goodreads
Photo Credit: Orbit Books
Book Photo: Owned & Edited by ShanaTalks
You might also like